Contact Information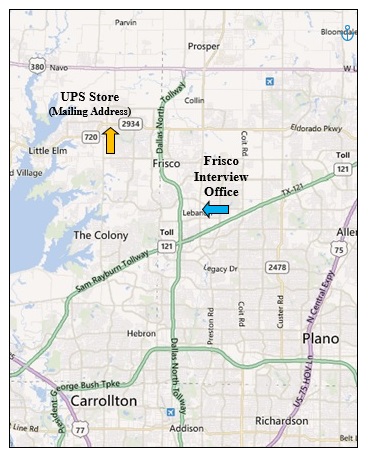 Please do not contact us by e-mail for new cases. Due to the nature of e-mail and "spam" filters we cannot guarantee that we receive these contacts. Please mail or fax new appointment orders, and please contact us by telephone to verify we have received them.
For possible clients, please review the information and documents available on this website before contacting us with any general questions you may have. We cannot respond to case-specific questions unless a formal working relationship has been established. For questions regarding legal issues please have your attorney contact our office.
Hours of Operation
Our administrative office is generally open 9:00 a.m. to 4:30 p.m. Monday through Thursday. Our administrative office is closed on Fridays, weekends, national holidays, and Frisco ISD holidays. We also close for inclement weather whenever Frisco or Lewisville school districts are closed.
Services at our interview offices are by appointment only, generally between 9:30 a.m. and 4:00 p.m. Monday through Thursday. Home visits and supervised visitation are generally conducted on the weekends.
Interview Offices
Most evaluation and intervention services are conducted in our Frisco interview office, just north of Sam Rayburn Tollway (Hwy 121) at 4875 Preston Road, between Lebanon Road and John Hickman Parkway. [Maps]
Please do not send any information to our interviewing offices. All correspondence should be sent to our mailing address above. Our mailing address is a mailbox at a UPS Store - they handle all of our shipping needs. We are often in session with clients, out doing home visits, or at court, but store staff are available during regular business hours to sign for any of your deliveries as well as accept regular mail.